Great Teams Get Great Results With Asana
We value organization and teamwork. These are some of the values that Search and Be Found is built on. Each business' online marketing activities are like a team management project. The strategists, the content writers, the graphic designers, the web developers and the business owner all have jobs to do to ensure that each business' marketing goals are achieved. Each person needs to keep up with their tasks to get the designated effect and reach their desired targets.
One of the things I notice with companies is they always struggle with the communication aspect of daily business, particularly with their team. Finding good team members that are on the ball makes everything so much more rewarding.
In my agency we have plenty of different activities, tasks, meetings, events and workshops on the go. And when your team consists of so many skilled people from different professions, this can be challenging because the communication needs to be tailored to the context of each individuals work that contributes to the whole.
If you don't have this sorted, I bet you are going crazy with trying to keep up with everyone and trying to delegate effectively. Well I wanted to let you know about something we are using Search and Be Found. This online program has made the world of difference – it's also free (the basic version which we use) so even better!
It has provided us a way to create momentum and better communication amongst your team as we collaborate on tasks and projects.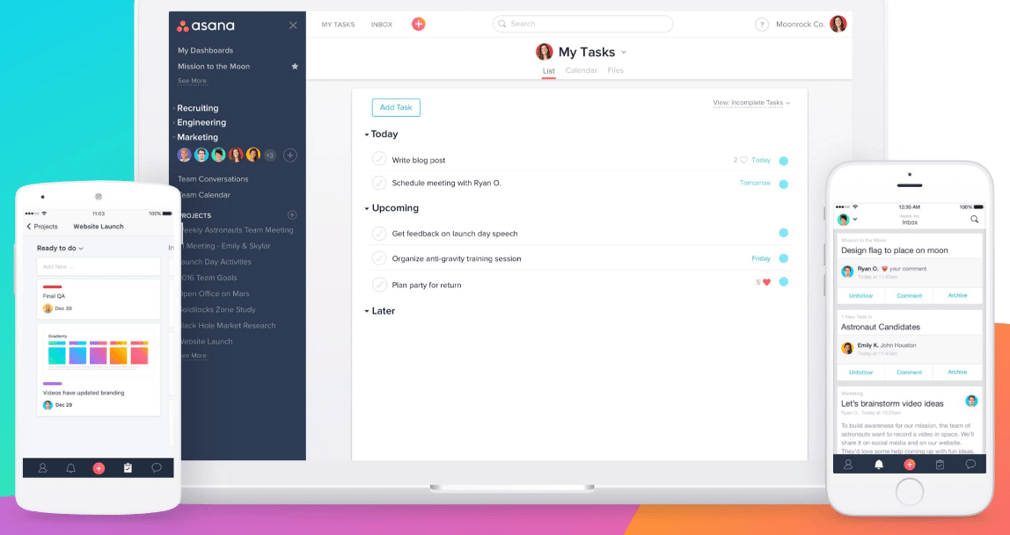 ASANA is a project management software that allows your team to collaborate, converse and assign tasks and projects amongst themselves. I did a little research and turns out it was created by the team at Facebook - you could argue that this is a fair indicator of the quality.
Your team, it's work, and the conversations around that work are organized clearly in Asana. We use it to great affect.
Within your 'organisation', you and your colleagues can split into teams and collaborate on your upcoming projects and tasks. Tasks are the basic unit of work in Asana. Tasks can represent any kind of work, break down work into smaller pieces, or use it to store information. Allocate to individuals, groups of people and set due dates!
Asana's many features go on and on…... and did I mention it's completely FREE for up to 15 users in an organization?! What a great way to create an efficient and productive work environment. What have you got to lose?
Here is a link to Asana's website for you to get started and have a look around the software.
If you would like to learn more about our Practical Online Strategies for Businesses and just what Search and Be Found can do for your business then click throughand download our FREE eBook on the return of investment of different marketing channels.