Trying to Get the Most Out of HubSpot is Overwhelming
Without a well-thought-out plan
You will only scratch the surface of the available tools
failing to utilize them to their full potential
This haphazard approach wastes time and effort by constantly recreating assets and processes that could have been streamlined
Moreover, you miss out on leveraging the latest features and advancements in HubSpot
This often results in a state of confusion and a persistent sense that you're not reaping the benefits of your investment.
However, there is no need to worry.
With our extensive experience in assisting numerous companies on how to maximize the potential of HubSpot to drive business growth, rest assured that our plan is tailored to work wonders for you too.
Framework
HOW DOES THE 5-STAGE PLAN WORK?
There are five stages of HubSpot implementation that need to be put in place so you can get the most out of it.
Make sure the basics are in place.
Ensure every page view, email open, ad click, sales interaction, social engagement and support activity is tracked.
Get all your critical marketing, sales and service processes automated, with the right people notified and your contacts nurtured.

Be able to identify what is working and why confidently.
You have a clear, proactive strategy for business growth and are empowered to make it happen.
What's next?
HOW TO GET STARTED
TOUCH
Schedule a Discovery Call
Talk with one of our advisors and together we'll quickly analyse your HubSpot portal.
TOUCH
Get a Plan
You'll get a tailored 5-stage plan for efficiently and effectively optimising your HubSpot portal.
TOUCH
Maximise HubSpot
With a plan that's focussed on your business, together we'll execute and optimise your portal. You'll be productive and effective, growing your business.
Ian with his team have made the online arm of my business stronger, more effective and more profitable.
This has not been o'night but together we have started to make huge inroads against my competitors who had been online for years longer than us.
I would recommend Ian to anyone who wishes to have a strong online presence with quantifiable results!!
Ian is wicked-smart when it comes to HubSpot and its use across sales, marketing and service functions. We engaged Ian more than a year ago to provide some best-practice advice on how to maximise our investment in HubSpot. The sessions were very useful and enabled us to utilise the power of HubSpot rapidly across our company. I never miss the HubShots podcast and recommend the podcast to anyone I meet using HubSpot. Thanks, Ian!
Working with Ian and the team and Search and Be Found is an integral part of our success in working with HubSpot. They have an ability to look across all of our teams and optimise processes in sales, marketing, CRM and inbound lead generation. From focused troubleshooting to long-term strategic development, having them as a partner is hugely beneficial to us as a business.
The level of expertise that Ian possess with HubSpot has accelerated by tenfold our digital enablement by setting up Sales operations with app integrations, CRM workflows and data validations which have been extremely valuable in understanding who is doing what and how our members are engaged. We could never go back to our prior ways of working entirely thanks to him.
Search & Be Found have been critical in the digital transformation of Platinum. We initially approached the team with a vision for a new website, and were impressed with the comprehensive approach that was shown not only towards a new site, but communication with HubSpot, our team and our entire sales and marketing strategy. We've continued the relationship with the team through regular coaching to maintain a strong alignment as the business grows.
As a junior marketer, the mentoring I received from Search & Be Found was monumental to my success. I seriously looked forward to our meetings each week as I knew any question I had could be answered. They went above and beyond to give insightful tips and training on HubSpot. They ensured our team optimised all the HubSpot functions so we could get the best results. Implementing and aligning sales and marketing was made easy because of Search & Be Found!
Ian and the team have helped us with systems to maintain customer relationship and our work pipeline. An all in one solution that is cost effective and easy to use.
Ian and his team are a perfect partner for my branding & customer experience agency. They have been instrumental in onboarding, strategy, insight and implementation around clients sales, marketing & service. The proof is in the results.
Ian and team was so helpful onboarding us to HubSpot. We needed a CRM tool but also needed to analyse our existing procedures and systems to eliminate duplication. Working with Ian he was able to provide strategy and insight into our sales and marketing processes which has allowed us to save money and operate more effectively moving forward.
Ian and the team have been giving us incredible insights into the world of inbound marketing pretty much since the phrase was invented! Always incredibly helpful and knowledgeable - over the years they have turned what was a mystery to us into a valuable asset. They also introduced us to HubSpot, which has become an integral tool in our sales and marketing process. From pipelines to complex social advertising strategies - they have the knowledge and resources to help you. Highly recommended!
Starting a construction business is hard and not having the right partner to generate leads and visibility is even harder. The team at Search & Be Found were instrumental in filling our enquiry pipeline that helped us grow and keep all our data in one place. Over time they have helped us adapt and stay on top with the changing landscape of digital marketing. If you want a partner that is hands-on and understands your business then Search & Be Found are the real deal.
Ian & the team work across multiple brands in the areas of digital marketing, our sales team & our website effectiveness. It is very important for our brands to have a strong, trackable online presence that is connected to the hands on, face to face side of our businesses. It is an absolute pleasure to work with Ian & his team. They have an in-depth understanding of people & processes whilst also assisting us on how to grow our brands using both traditional sales & marketing together with the world of online.
Ian and the Search and Be Found team has been a critical partner and first point of call for our digital journey over the last 10 years. In 2008 when I founded Searchcraft, I had no idea how to run a website or have it generate leads. Over the years, Ian has helped us with Websites, SEO, Email Marketing and HubSpot implementation. I highly recommend him.
I've had the pleasure of doing business with Ian and have found his capabilities to understand complex problems and provide innovative solutions as outstanding. He is at the forefront of sales and marketing engagement utilising HubSpot and has provided immense value. He is also very savvy when it comes to complimentary technology and would be a welcomed asset to any organisation.
We used Search and Be Found to help get us set up on HubSpot Basic and to also take over our website. I have found Ian's combined expertise in IT and Marketing to be excellent and he is a real pleasure to work with. I would happily recommend Ian and his team to anyone looking for a trustworthy and clued up digital IT, sales & marketing consultant.
Ian and his team at Search & Be Found are awesome. They have completely transformed our digital presence and really helped re-establish our digital lead pipeline. Their expertise with regards to our website, marketing and sales has been extremely valuable. We highly recommend Ian and Search & Be Found. We love their flexibility and their willingness to assist our growth. We should have done it earlier but I am glad we have done it now!
Ian has made a massive difference to our lead generation. He genuinely listens and takes action on tasks at hand, quickly and as directed. Our lead generation improvement has been dramatic. Ian understands we are the client and enables the development of a great working relationship. It has made a real difference across the HubSpot platform for marketing, our sales team, lead generation and the like. He has just simplified the process for me understanding how time poor I am. Great person and business to work with.
Super impressed with Ian onboarding our website to HubSpot, giving us complete control over design changes and creating new content. Bringing the process in-house has opened a lot of opportunities for us to work more efficiently in managing our website, plus saving us money! Ian has helped us get on board with HubSpot and assisted us in planning and executing marketing campaigns and joining our sales and marketing efforts. HubSpot has given us insight into our campaigns that we have never had before. I highly recommend Ian and Search & Be Found and applaud him for all the hard work he has done in getting us on the platform.
Most Companies Don't Have a Plan for How They Use HubSpot
From Basic Survival to Maximum Effectiveness
As a HubSpot customer, you expect to have the platform helping your sales, marketing and service processes.
You're expected to save time, achieve better results, and be on top of your strategy. It's a demanding position.

We guide you through the overwhelm that often comes with HubSpot - it's a big platform with so much potential, but often you don't know where to focus.



We guide you how to remove the overwhelm and help you move from basic survival with HubSpot through to empowerment across the entire suite of tools.

That's why our 5-stage framework is easy to understand, proven over years of experience and focused on maximum effectiveness.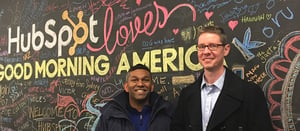 HubShots is a podcast about all things HubSpot.
Ian Jacob and Craig Bailey created the podcast 8 years ago.
It is aimed at providing practical, real-world, HubSpot advice for growing your business.
Your Weekly Shots of HubSpot Strategy & Best Practice!
Your Weekly Shots of HubSpot Strategy & Best Practice!
Experience Matters

Certified HubSpot Platinum Partner

Australasia's #1 HubSpot-focused podcast for 8+ years

Helping clients grow with HubSpot since 2013