The Internet's favourite sticker printer
Again, continuing on with my theme of sharing online tools that are practical and proven in small business. To be honest, I am enjoying sharing some of my tools.
For this blog topic I would like share a business that I have used many times named stickermule.com
As the name implies Stickermule is an online company that supplies custom made stickers to the masses at great value. Copied straight off their website, this is what they do;
'We help thousands of people, startups, bloggers, artists and companies order awesome stickers that are printed beautifully and ship fast'.
What does this have to do with your business?
If you are reading this, you probably have already thought of some ideas and who doesn't like stickers to apply to anything and everything. But it doesn't end there. Thinking laterally, Stickermule offer lots more that could be valuable to you within practice.
I have used their services for all sorts of things within my online marketing agency.
Here is brief overview of what can be done:
Stickers – all sorts of different types
Circle stickers
Rectangle stickers
Square stickers
Oval stickers
Rounded cornered stickers
Bumper stickers
Sticker sheets
Kiss cut stickers
Clear stickers
Transfer type stickers
Wall graphics
Floor Graphics
Custom Labels
Think of the endless opportunities within your business to label items for organisation value.
Custom Magnets
Branded magnets just aren't for the fridge
We use them as labels that need to be regularly moved e.g. on your whiteboard or filing cabinets.
Buttons (being Australian, I call these badges)
The possibilities are huge if you let your imagination run wild with what you can achieve using Stickermule as a tool. In my agency, because I meet so many people, my team members have their own badges. It gives the team and clients some further engagement in their relationships and makes them feel as though they have thier own place at our agency.
---
I wanted to give you an example of stickers taht we have actually had supplied to us by Stickermule. There are stickers that Ian had made up for his inbound marketing podcast called 'Hubshots' - I have also included a link to the podcast if you are keen for a listen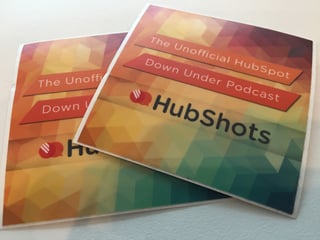 ---
As usual, best practice would be for you to click this link and check it out for yourself on stickermule.com and see what you can use within your business to improve and engage clients and team members.
If you would like to gain real insight into what marketing channels have the best return on investment than click through below and download our FREE eBook that explains it all.